Network Homes: Creating a space that's way ahead of the curve.
Network Homes is a multi-award winning Housing Association that looks after a community of over 38,000 people across London and Hertfordshire.
Beyond building, providing and managing homes, they run many welfare and environmental projects. Employment and training programmes. Budgeting and benefits advice. Fundraising and financial support for many other charities.
After almost 50 years in the same space, and having undergone a major re-brand, it was time to move. Just 500 metres – to the spectacular Hive Building, at the heart of the new 85-acre, Wembley Park development.
This was a huge opportunity to re-think their operation. Forward-looking. Future-proofed. A completely new way of working.
A shift from fixed desk, to communal working. Where everyone feels better connected – whether at home or in the office.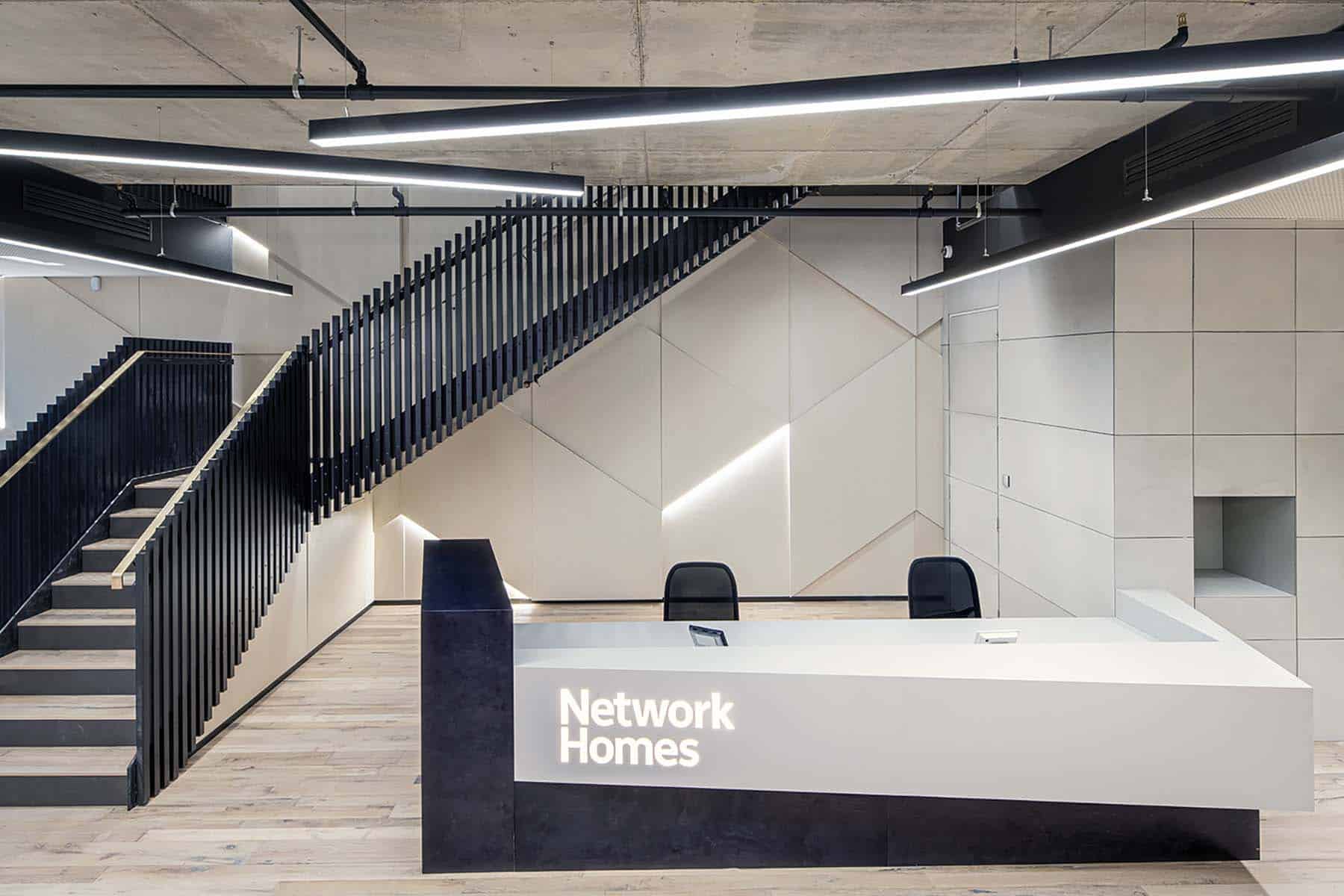 The brief.
Network Homes wanted an office that made a statement. Professional. Modern. With social purpose at its core.
They wanted a state-of-the-art HQ that would let their team of 380 staff work seamlessly from any location. But they also wanted to stay true to their roots.
We were asked to create a flexible workplace that captures the company's social vision and urban roots.
Wellbeing and work in equal measures. Inspirational. Tech-enabled. A space that fully supports agile working.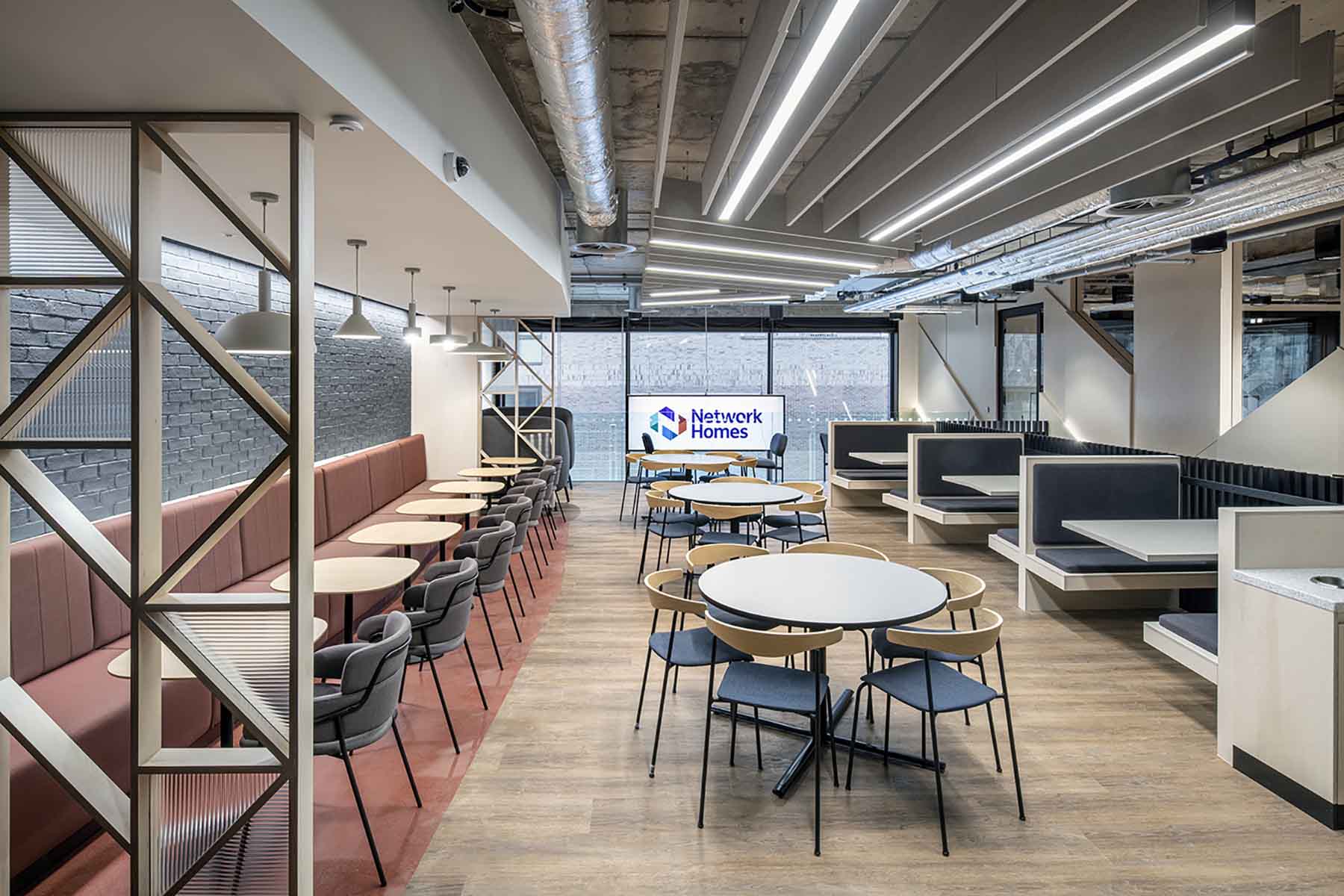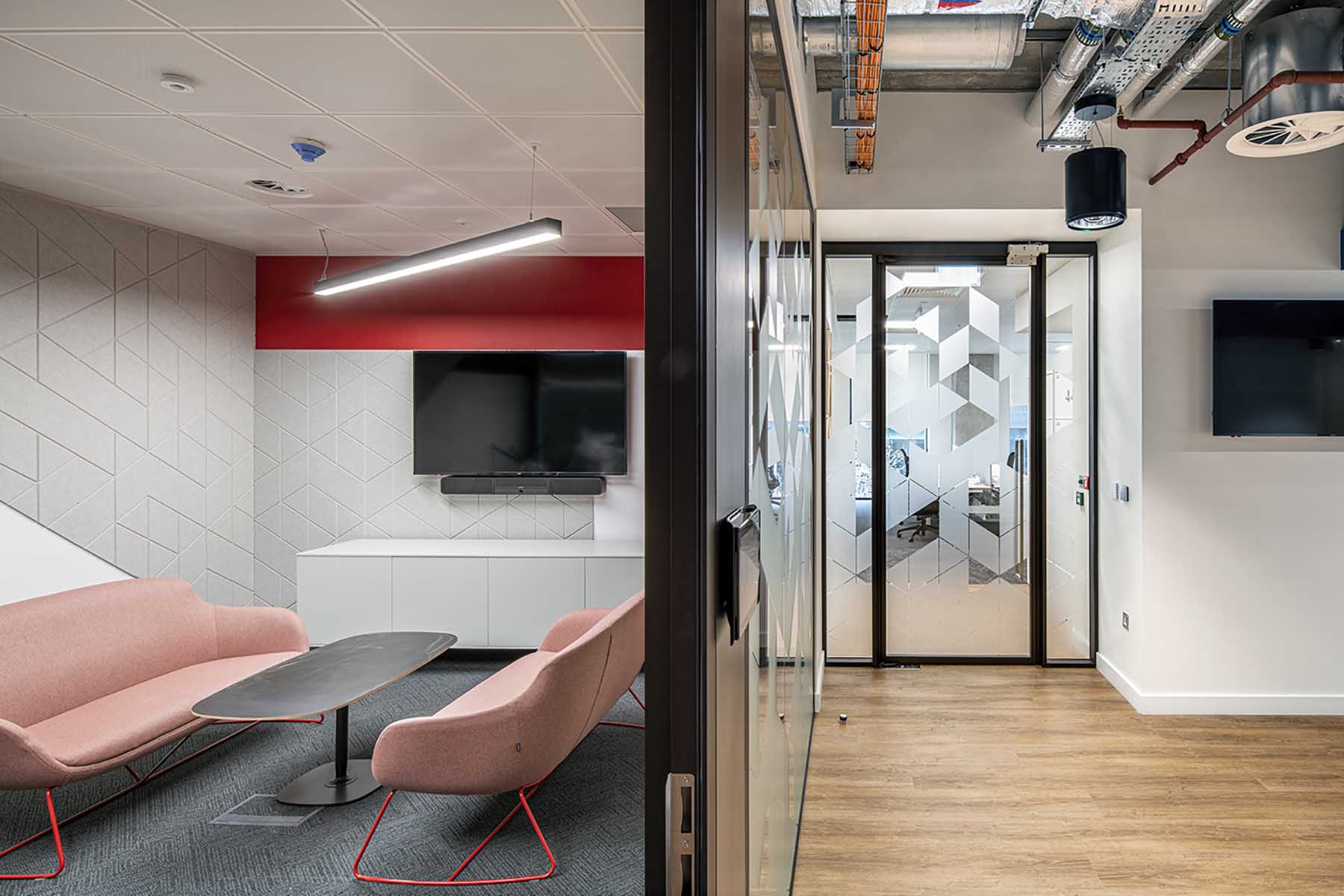 The challenge.
Like all office moves, this one wasn't without its challenges.
Challenge 1: Moving an organisation that had called their previous space 'home', since 1974.
Challenge 2: Downsizing from 60,000 ft² of sole occupancy, to 32,000 ft² in a new, multiple occupancy office building.
Challenge 3: A relatively small budget, but massive expectations.
Challenge 4: Having to work around The Hive's development team, as they completed the retail and upper floors.
Challenge 5: The pandemic kicking in just before handover. No one saw that one coming.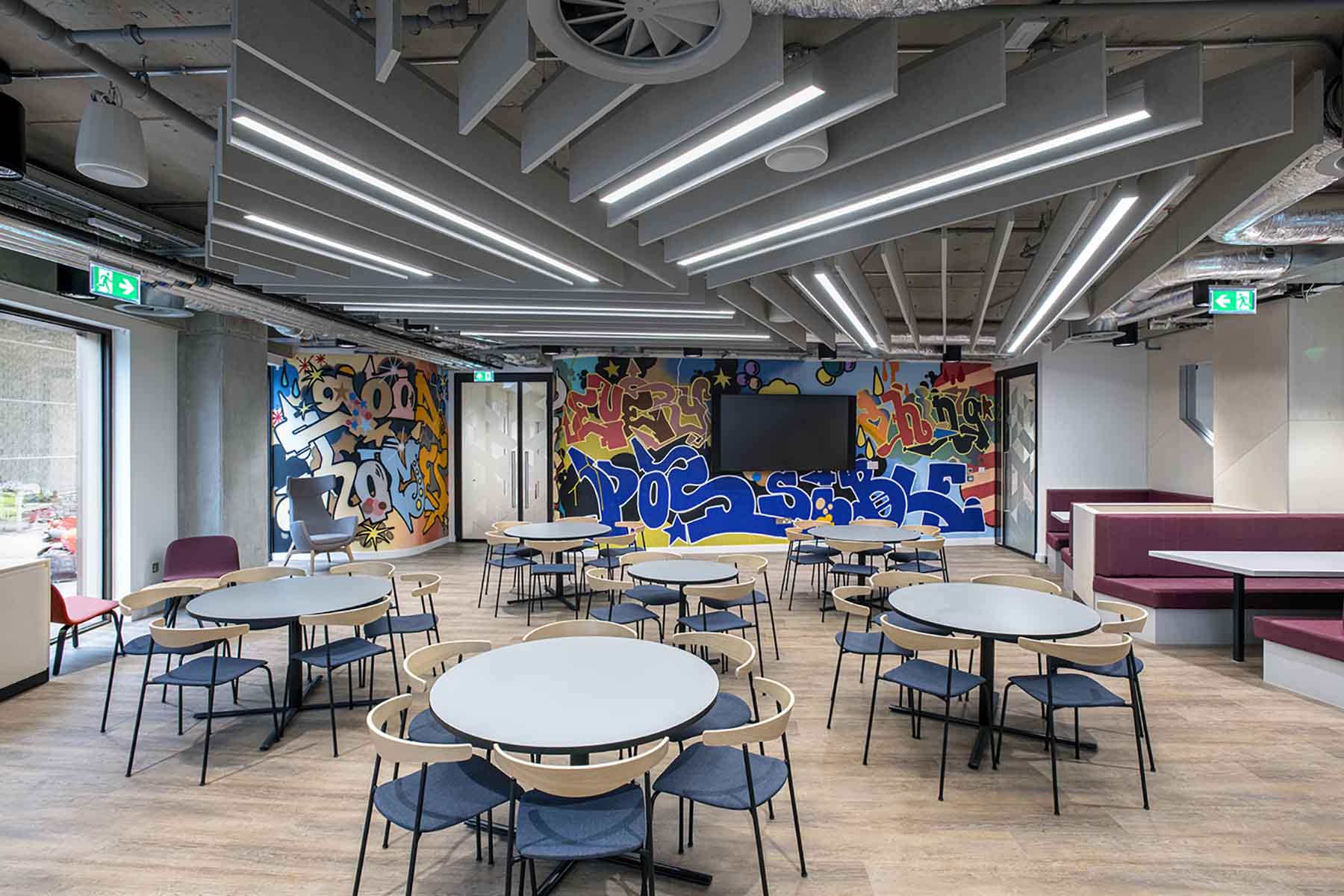 The process.
MCM worked as partners with everyone involved. Project Managers. IT Consultants. And especially the client.
A workplace assessment was carried out right at the start to better understand team needs. To smooth the transition towards agile working, all of the staff were engaged throughout the process.
Embedding the client within the design team made for easier decision-making. Whenever an issue came up, we worked together to find solutions quickly. Without compromising the integrity of the design.
One of the key drivers was to reduce the overall footprint. This meant designing flexible spaces. The mezzanine doubled as a client meeting and staff break out and townhall space and the client's own reception area also incorporated a tenant drop-in facility.
The whole team worked tirelessly to hit deadlines. Even with Covid-19 doing its worst to de-rail schedules:
– July 2018: consultant team appointed
– April 2019: stage 4 design completed
– September 2019: fitout started on site
– November 2019: base build completed
– April 2020: fitout completed
– July 2020: 'go live' following reduced lockdown restrictions
Workplace Strategy
With a driver to release equity, Network Homes made the decision to sell their slightly out-of-date existing building in Wembley and move to a new build workspace around the corner with a smaller footprint, recognising that many of their functions were already operating in an agile way due to the nature of their work. The client decided to use the move as an opportunity to dig deeper into the analysis of their current ways of working with the aim of formally 'going agile' and providing a workplace to suit the various profiles within their business and make the best use of space.
During the discovery phase of the process we carried out a visioning workshop, interviews with the executive directors, cross-functional workshops and interviews with key enablers such as HR, IT and FM. From this we were able to distill the project vision, key drivers and measures of success. We also collaborated with the internal Business Transformation team to understand the data they had already gathered on the various worker profiles and headcount numbers.
Once the discovery phase was complete, we set about defining and developing a workplace strategy that was directly aligned to the data. We made recommendations for spatial requirements as well as recommendations for tools and technology training. To help the client decide on the best zoning approach to complement their preferred adjacencies and workflows, we also provided block plans and test fits which explored different scenarios which enabled them to feel confident to push forward with a preferred strategic approach.
Network homes now formally operate on an agile working model and occupy 2 floors of workspace which has been zoned into neighbourhoods and offers a variety of work settings to give choice to the employees and encourage movement. The layout itself has been carefully planned and optimised to make the most of the prime space whilst also providing an equitable provision of alternative settings to each of the teams.
On the mezzanine floor there is a dedicated social and meeting space which is flexible and therefore can provide multi functionality, thus making the best use of the space available.
The look and feel.
The client wanted to move away from a conventional office. Less corporate workplace; more social hub. A space where everyone would feel at home.
They wanted to embed the Network Homes brand ethos in the design. As an affordable housing supplier, this meant urban, industrial and domestic touches.
House front doors to meeting rooms. Brick slip walls. Pitched roof details. Shingle tiles. Exposed ceiling services. Graffiti murals.
Having recently rebranded, this was a chance to fully integrate a fresh 'on-brand' look and feel.
A more agile approach to working meant that technology was key. IPTV and digital signage were used to support internal communications and wayfinding. Wired and wireless AV was used throughout: in the café, Town Hall space, touchdown project spaces, refreshment hubs, meeting rooms and training rooms.
There's a faith room, space for office yoga, a green roof and plenty of greenery throughout. The mezzanine puts the customer experience at the heart of the operation and has become a 'jewel space', as our client put it – a multi-functional hub where everyone can come together to share ideas.
Bright. Vibrant. Contemporary. Network Homes' new space perfectly balances functionality and aesthetic. It reflects the organisation's urban roots and social messaging, whilst providing a contemporary and welcoming space for employees and visitors.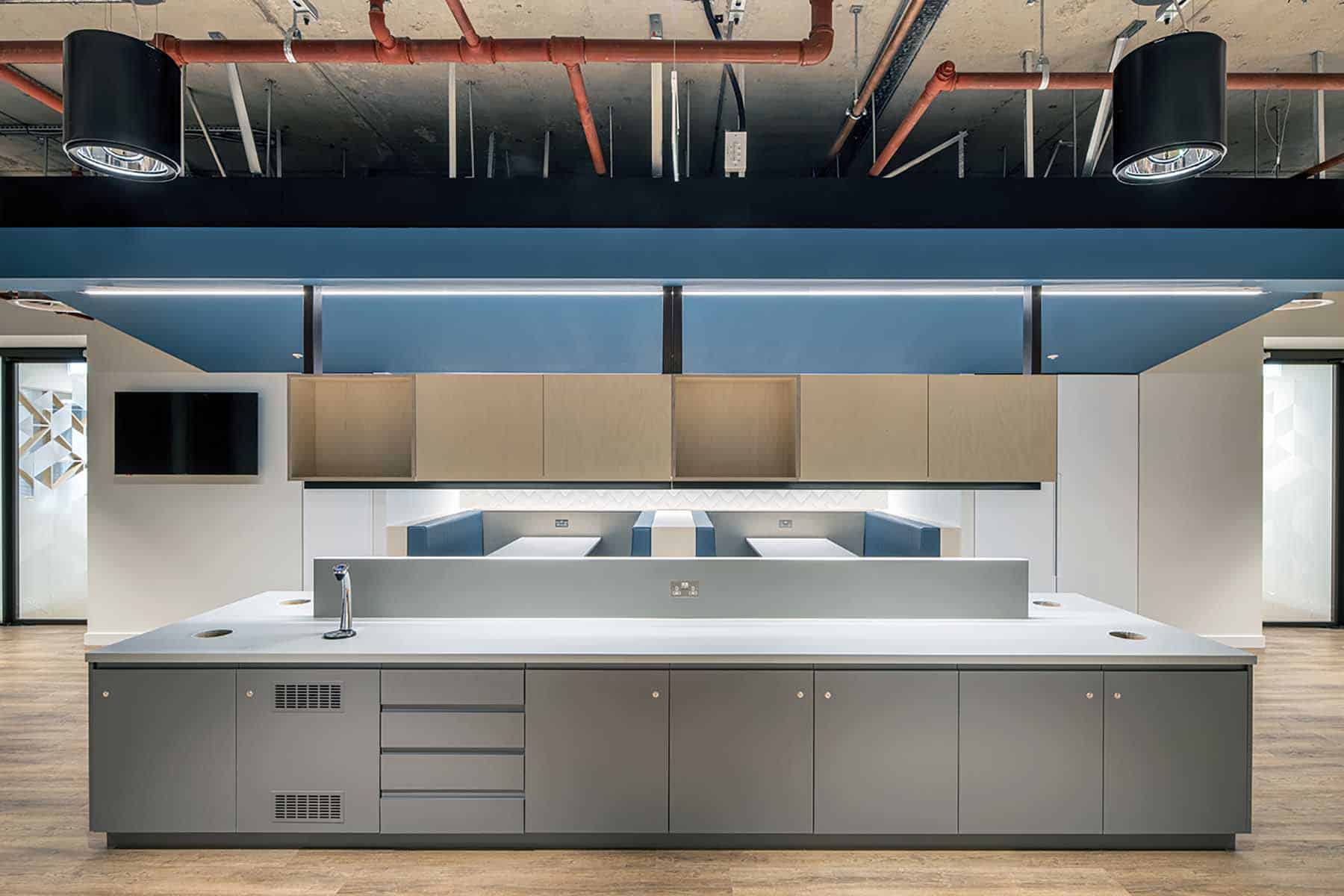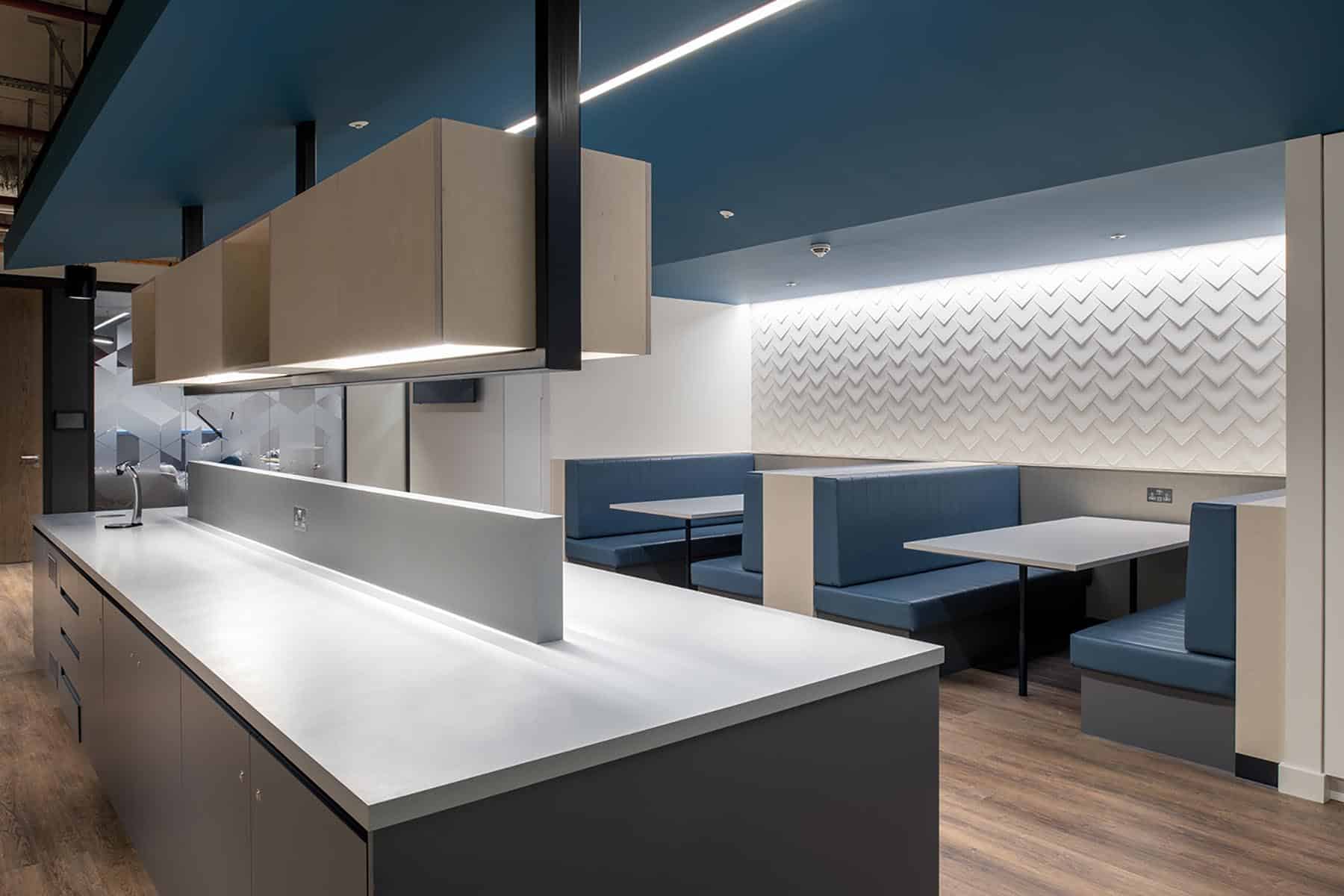 The result.
Designed pre-pandemic, the client's vision for a future of agile working now feels way ahead of the curve.
Flexible. Welcoming. Inclusive. It's everything our client wanted, and more.
This is what they had to say:
" …a great space for our people to collaborate; whether they're in the office or not. It has given us a real professional look and feel, and broken down the home/office divide. The different areas let everyone choose where and how they work. This flexibility gives us the ideal space for now and into the future."