A new hybrid working environment for a global media business.
With a growing portfolio of clients, freshly acquired brands and a desire to be the class leader within their sector, Mediabrands elected to create a new people-focused and inspiring headquarters building.
16 Old Bailey will be home to over 1000 creatives working within 8 separate distinct brands, all under the Mediabrands umbrella. Selected for its renowned, convenient location and rich blend of modern verses traditional architectural styles, 16 Old Bailey provides an exciting canvas and backdrop to meet their aspirations.
The brief.
The key project driver was to acknowledge, respect and embody the individuality, character, culture and spirit of each of the brands, while providing a seamless holistic experience that said "Mediabrands". The space and experience should feel progressive and unique. It should make people feel proud, while being fluid and flexible enough to meet rapidly changing business and cultural needs.
To do this the Big Idea was to establish a 'creative tension' that would inspire and inform. These tensions would relate to the location, the building and brands. They are expressed in design responses and materials that work with:
Industrial and Railway (the location)
New and Old (the building)
Culture and creativity (the brands)
The process.
These ideas are seen throughout the 9 storey layer-cake like building and provide a thread to bring the brands together, although each brand is still entered, whether client or creative, through its own 'portal' or front door to give a unique arrival experience. A series of brand specific neighbourhoods and collaborative spaces offer a variety of settings to both inspire and provide agility and flex for a post-pandemic dynamic workforce.
Permeating through the layer-cake are a series of unique destination spaces encouraging movement and collaboration. These are crowned by an inter-brand co-working and an immersive client experience floors, each with external terraces, high levels of daylight and stunning views of London.
These spaces, together with a design philosophy employing sustainable principles and recycled materials, help to provide all the Mediabrands family with WELL focused spaces; supporting their global ESG vision and ultimately helping to attract and retain the best, class leading creative talent.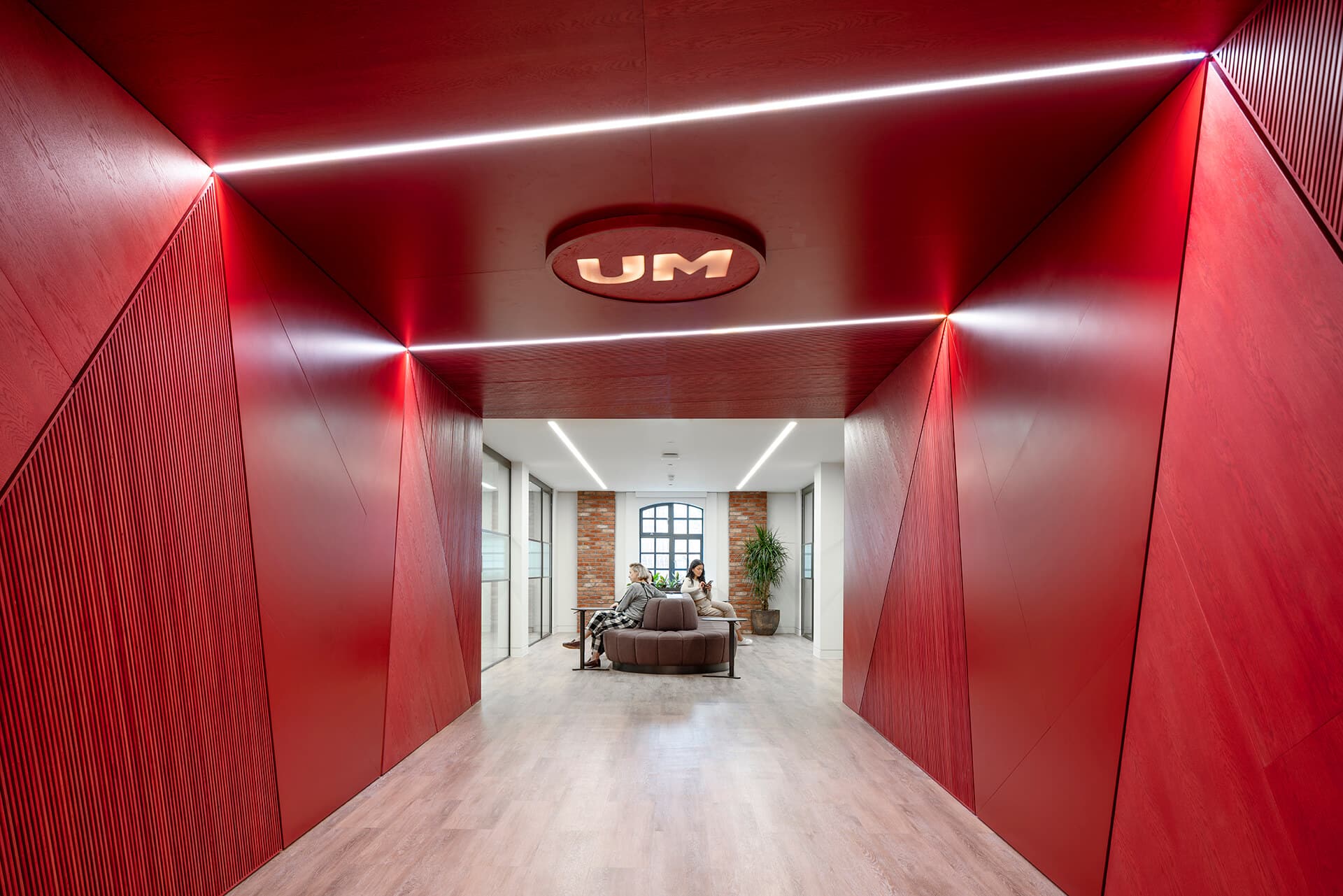 Workplace Strategy
Having decided that 16 Old Bailey was the best location for IPG Mediabrands to move to following a lease event on one of their existing properties, the consultancy team were engaged to undertake a briefing process that would provide IPG Mediabrands with a coordinated Strategic Briefing Report that captured the client brief requirements and recommended strategy required for progressing the design. With many different brands coming together under one roof for the first time it was critical for us to understand each of the brands as individuals and the nuances that came with them before we considered how they might knit together in the new HQ.
We kicked-off the process with site visits to the existing space and a Space Utilisation Study to indicate current ways of working and space usage. A visioning workshop with the SteerCo and interviews with Heads of Department and a staff wide survey were also carried out to gain a deeper understanding of how the business worked currently and the aims and aspirations for the future.
During workshops we explored opportunities and challenges and began to discuss the types of work settings that would respond to current pinch points and space usage as well some more aspirational spaces that could support diversity, inclusion and wellbeing.
It was important for IPG Mediabrands to introduce some new spaces into the HQ that would improve the client experience as well as the staff experience and so destination points become part of the recommendation alongside strategies for growth that would protect these special spaces.
16 Old Bailey now showcases a workspace that is centred around sharing space and creating experiences. Teams work on Neighbourhood floors with a much greater variety of settings than they had previously. In addition, they also have access to key destination points that attract people to work in the building and support them to feel effective and efficient, which is particularly enhanced by the unique wellbeing spaces that have been included and the fabulous roof terrace which is shared by all.