Nationwide: A new chapter for the world's largest building society
In 2018, Nationwide announced a 5-year technology spend of £4.1bn. This included an ambitious Digital Innovation Centre in the heart of London's West End. Here are the stats.
The company: World's largest building society. Founded 1846. 15million customers. 17,000 employees. £250bn assets.
The building: Prestigious Holborn location. 33,000 sq ft retail space. 263,000 sq ft office space. 135 metre, double-height frontage.
As you can imagine, we jumped at the chance.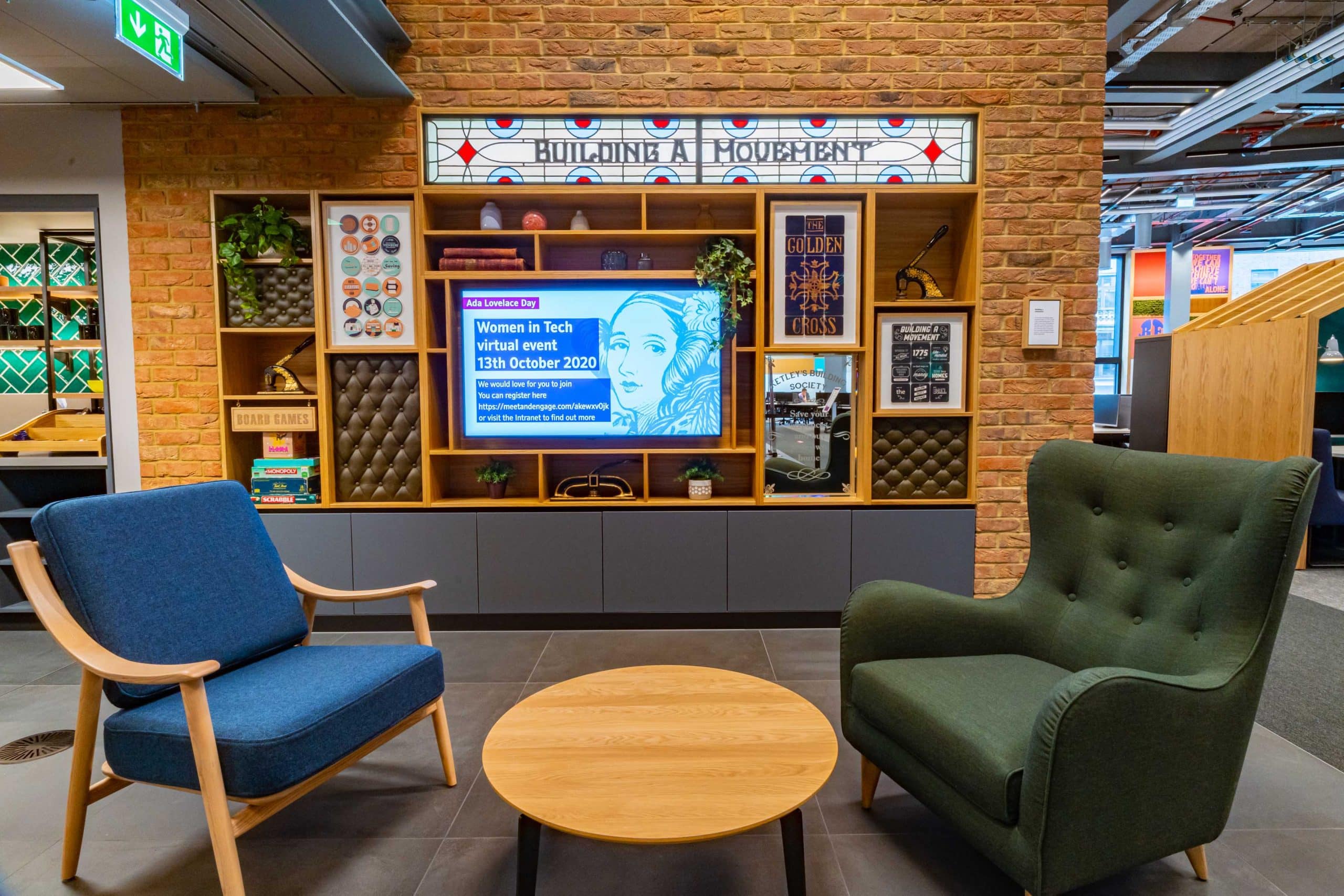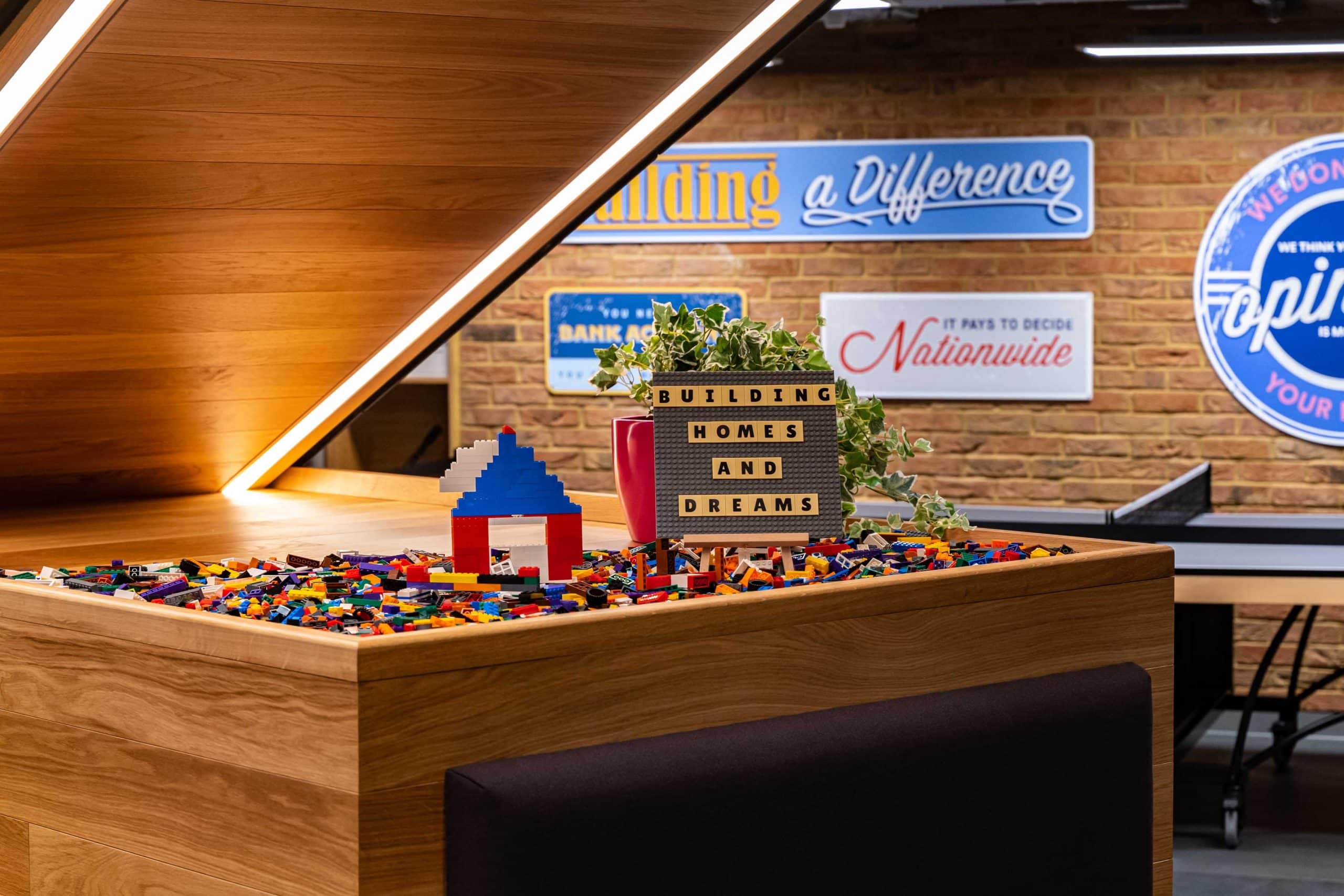 The brief.
We were asked to create a dramatic space for collaboration and innovation. A new way of working, but recognisably Nationwide.
The office, across 4 floors, had to be sustainable, suitable for a range of working methods, inclusive at every touchpoint and designed with staff wellbeing in mind. It also had to be as future-proof as possible.
This was a huge statement for Nationwide. They wanted to attract a new 750-strong technical team to support the digital transformation of their business. Changing times. Changing needs. And a big change to the way they operate.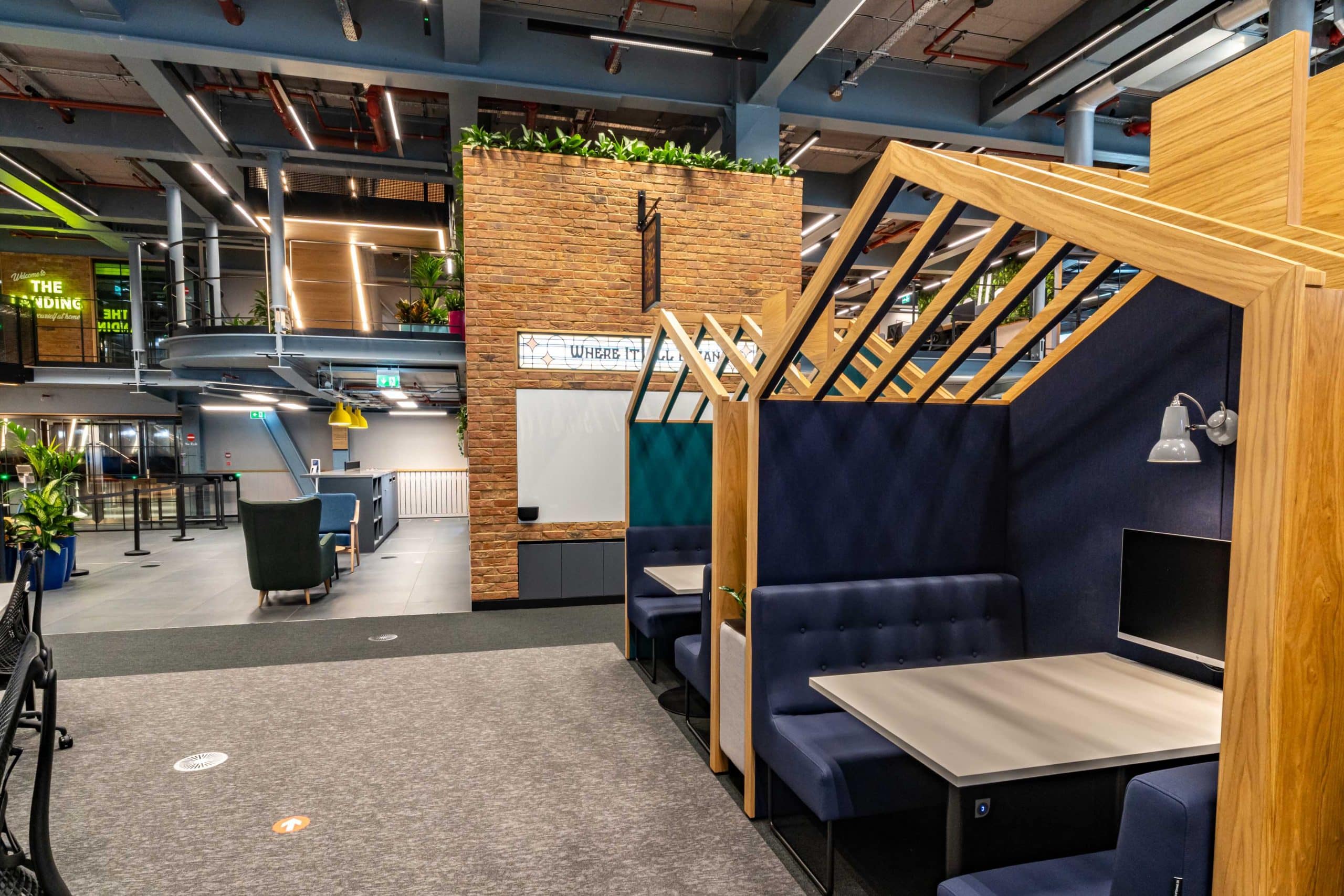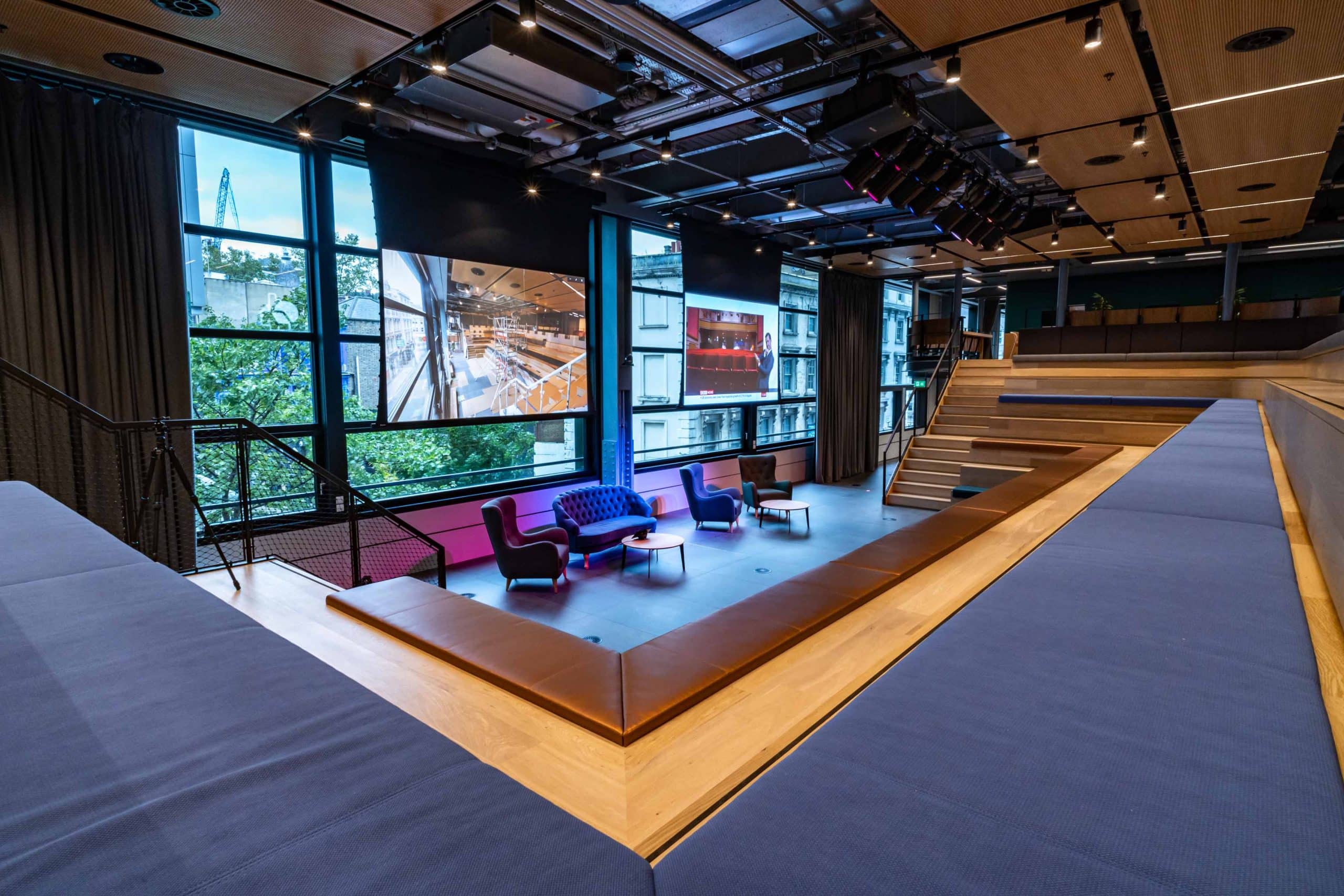 The challenge.
If there was ever a project that embodied the symphony between technology, aesthetic and user experience this was it. There was a lot to deliver: Sustainability. Inclusivity. Adaptability. Comfort. Compliance.
Of course a project such as this doesn't come without challenges.
Double-storey height spaces afforded lots of deep natural light. But low mezzanine levels compromised service routes.
We also had a duty to respect the open, industrial feel of the building. Hard finishes and exposed ceilings presented the challenge of providing the right acoustic levels.
Our team were committed to fulfilling Nationwide's vision and set about utilising the opportunities a unique building like this provides.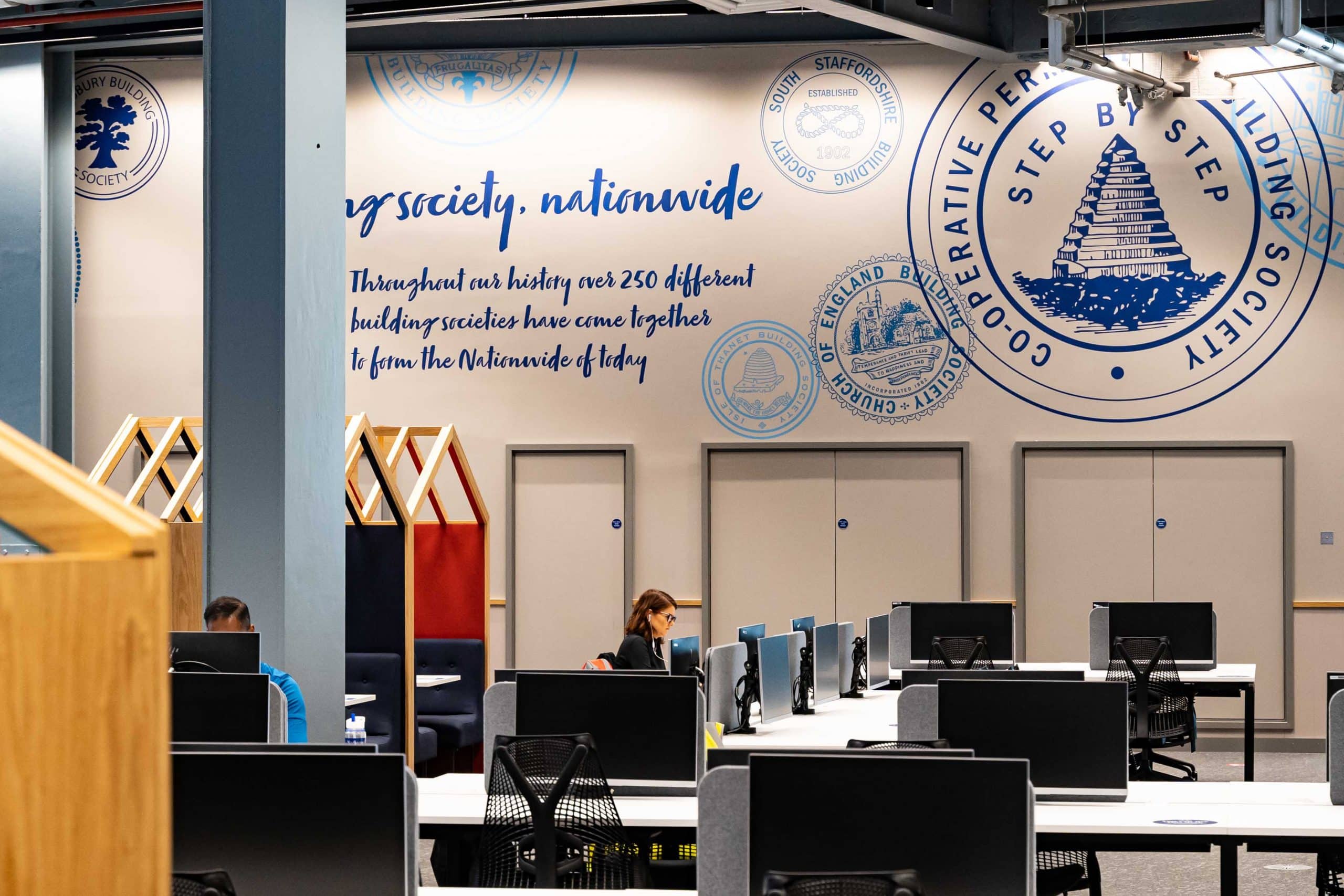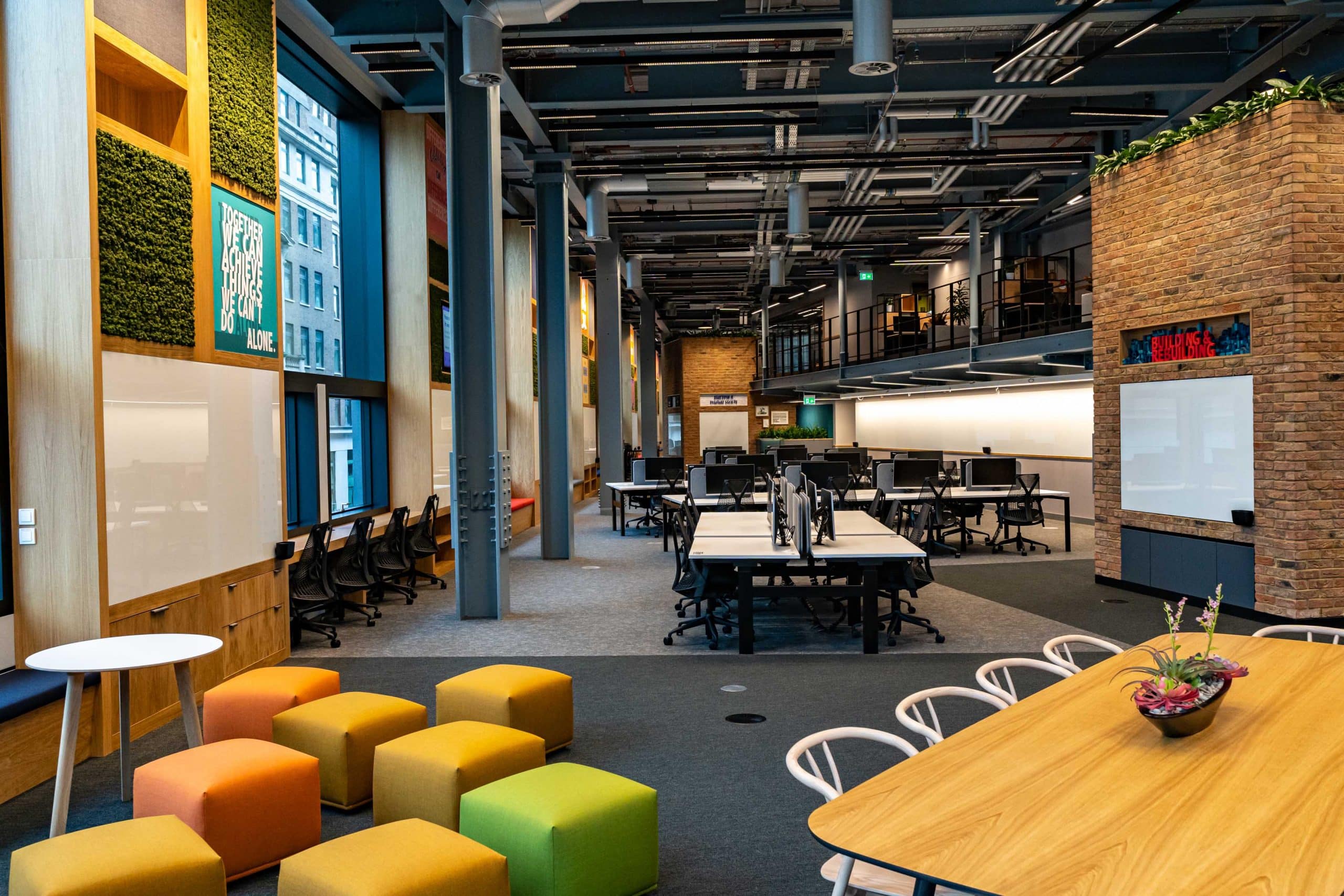 The process.
Although the project had a tight turnaround, every detail counted.
Working with end user groups and the British Disability Foundation ensured that all spaces had accessibility and inclusivity designed in. And joining forces with our client's existing contractors allowed a brilliantly effective, collaborative working methodology.
Problem solving. Change control. Commercial matters. Whatever came up, it was dealt with swiftly and amicably. This approach was particularly helpful when COVID-19 hit. MCM, the client and their contractors worked seamlessly together to mitigate the affects of any associated delays.
A few specialist areas were mocked up ahead of works to benchmark build quality, finishes and lighting specifications. And to keep costs down, new staircases, structural steelwork and much of the joinery was pre-fabricated off-site.
Planning. Teamwork. Communication. As challenging as this project was, the groundwork we put in made sure it all went like clockwork.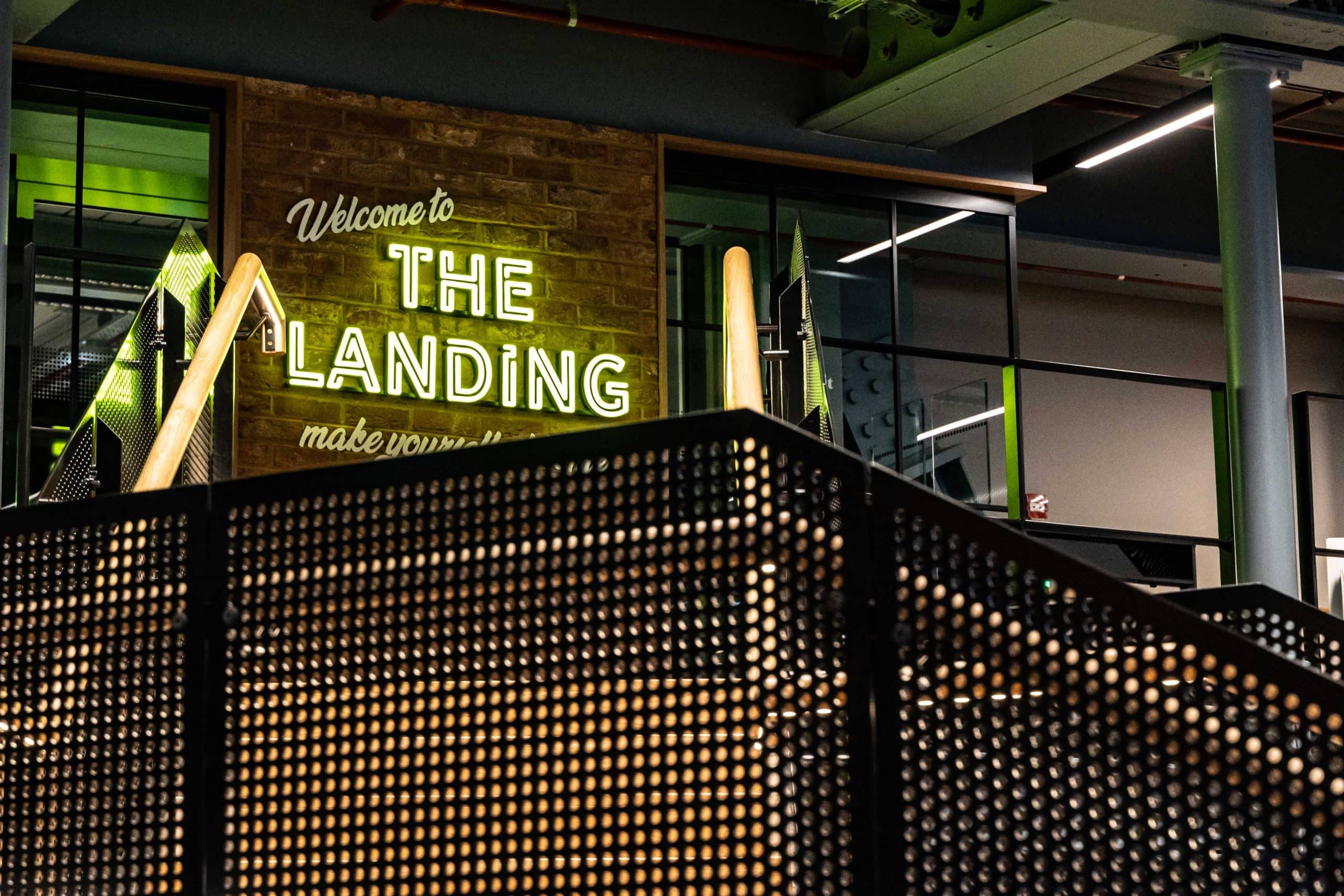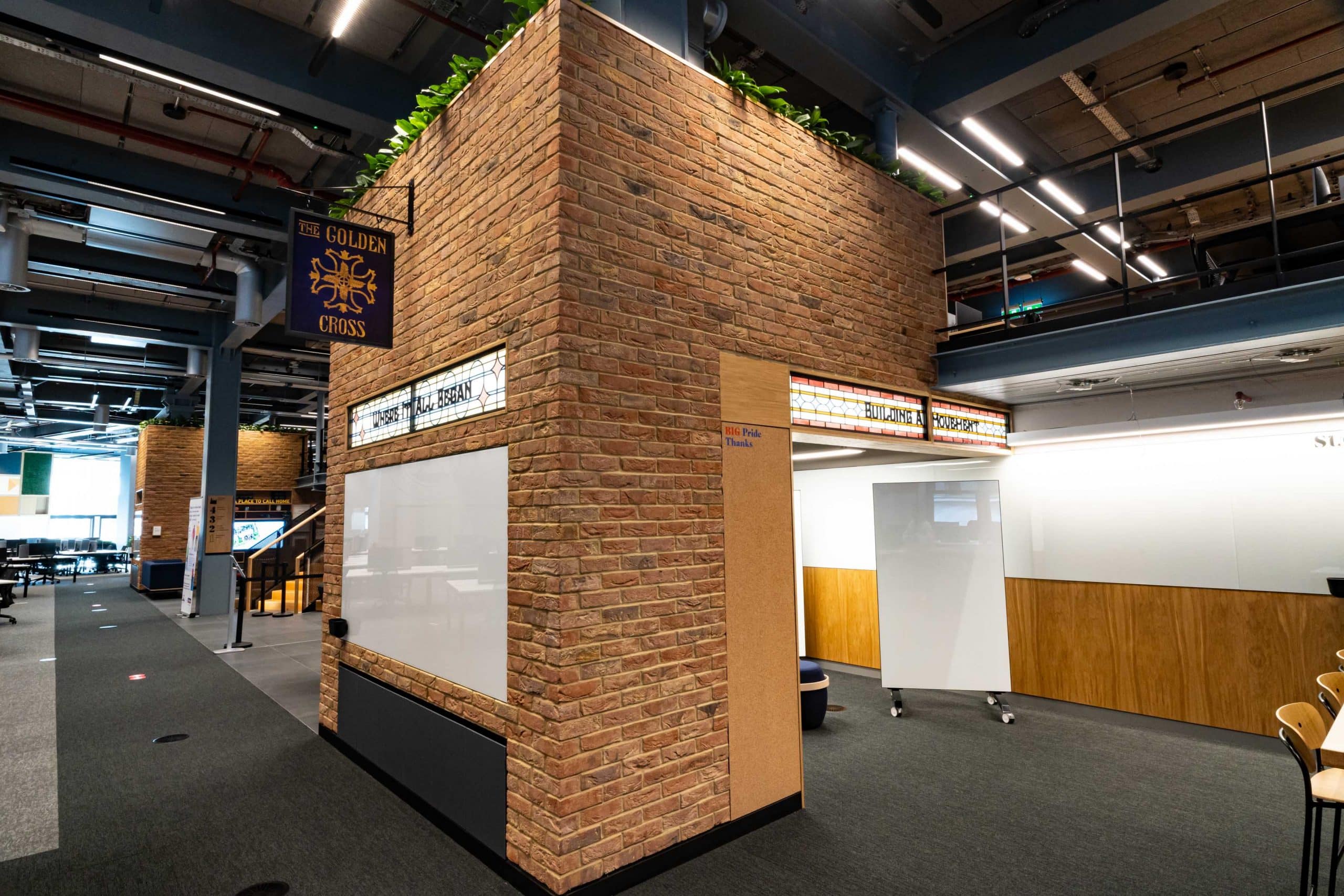 The look and feel.
This is an impressive space.
General desk areas. On-site catering. Canteen. Breakout areas. Collaboration spaces. Quiet spaces. Communal areas. Terraces. An immense 'Town Hall' conference area. Everything had to co-ordinate and flow.
Taking its lead from Nationwide's retail branches, the design featured familiar cues, such as brick feature walls, anglepoise lighting and residential-style furniture. To optimise procurement and ensure consistency, we worked with the same suppliers and installers as our client uses within their branches.
The four floors are designed for intuitive navigation, with clear signage throughout. Every part of the building is accessible, allowing staff to collaborate easily. Each entrance area features a large communal space and internal staircases to encourage teams to walk between floors and collide with each other.
Inclusivity and wellbeing are core principals of Nationwide's new offices. A number of employees are on the neurodiverse spectrum (this includes autism, ADHD and dyslexia), so the design incorporates 'library' and 'tech free' spaces that allow moments of quiet and calm.
Natural light, choice, planting and an overall biophilic approach all contribute to the health and wellbeing of everyone who works or visits here.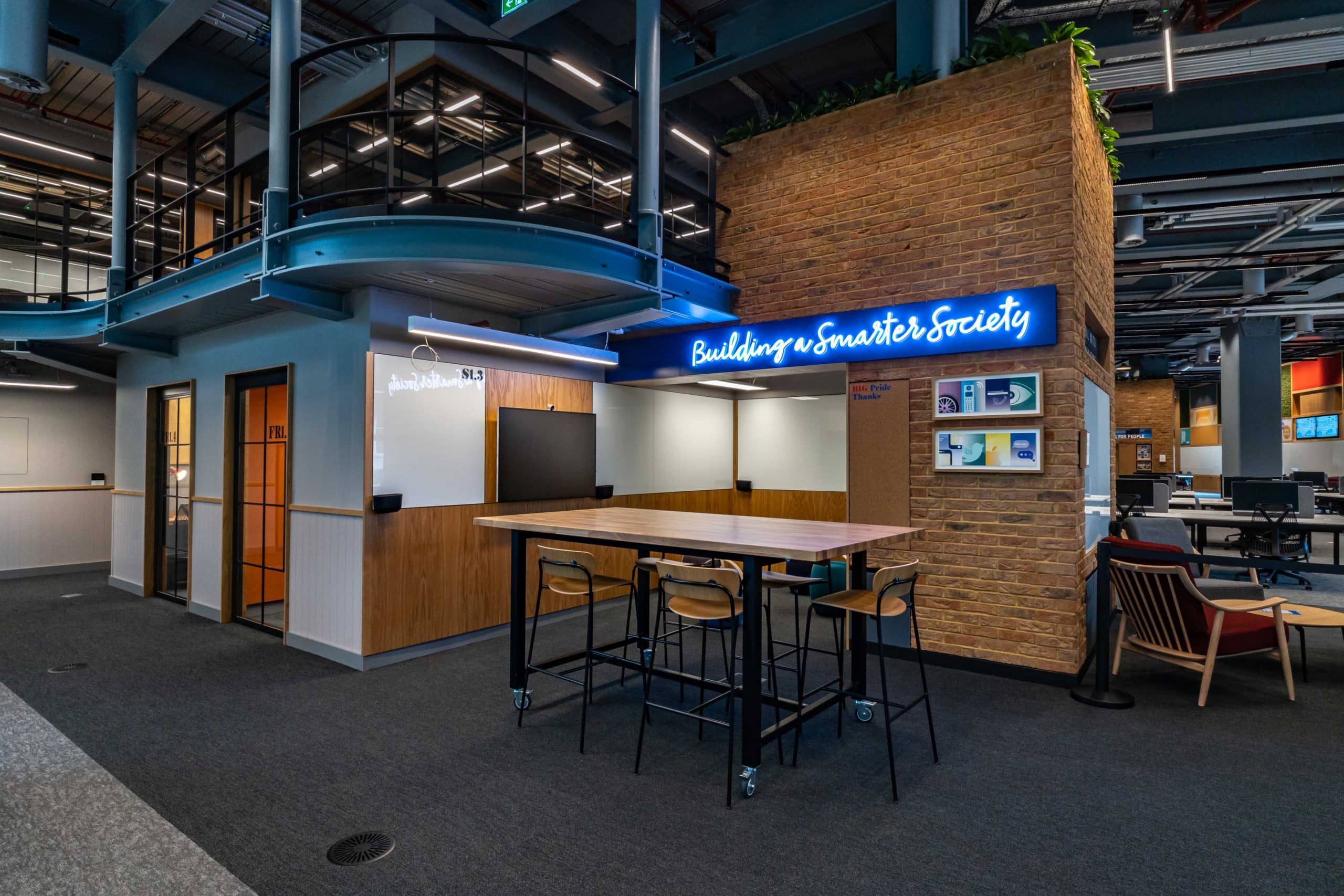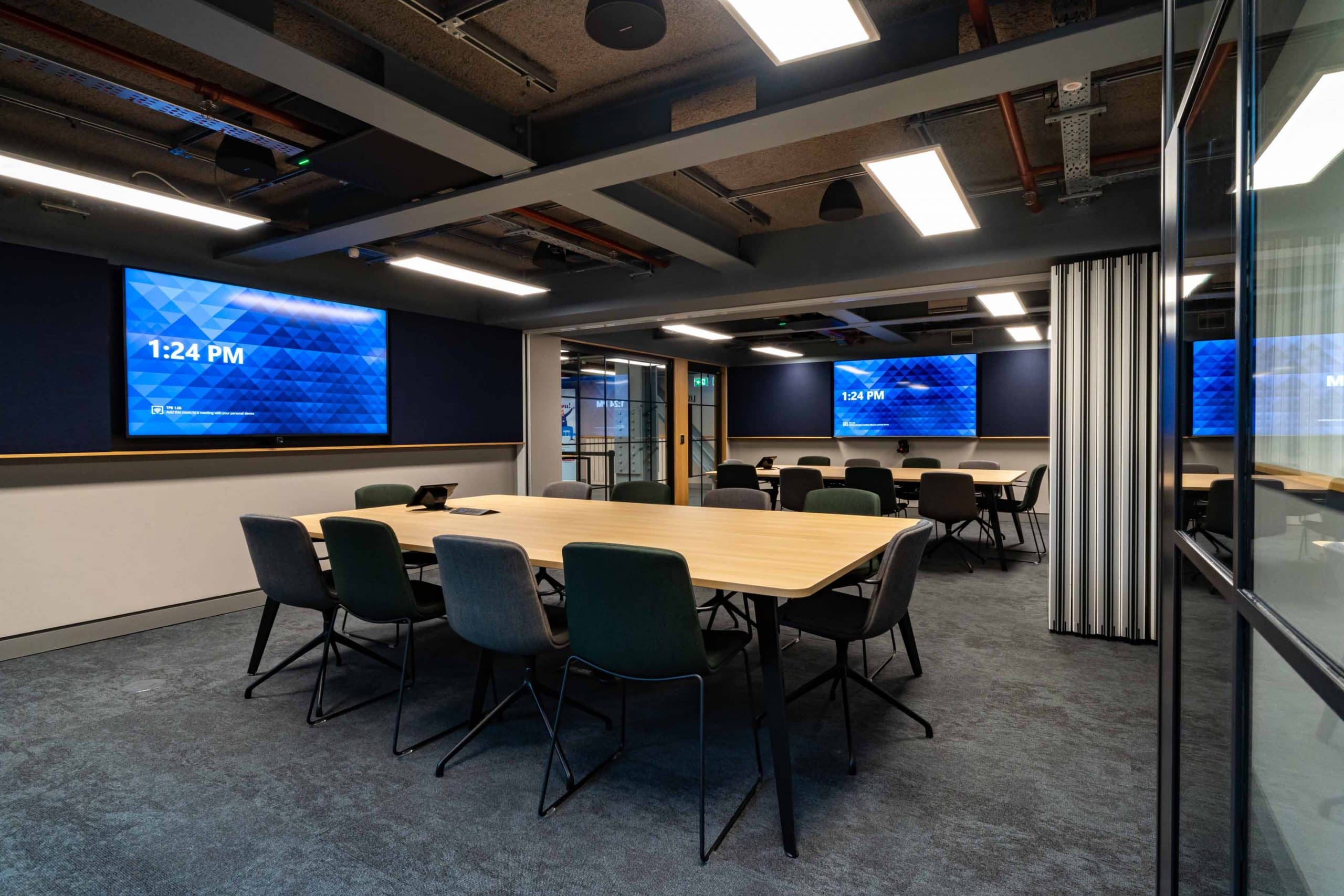 The result.
This is a transformative space that puts people at the heart of the business. Through deep engagement with end user groups, we have designed a healthy, inspirational environment that everyone can enjoy.
Flexible. Ergonomic. Inclusive. Employees can choose how and where they work and the entire space is 'grid wired,' so that seating layouts can easily be reconfigured to meet future demands whether that is to suit sprint teams today or compliance teams tomorrow.
Nationwide's Digital Innovation Centre has exceeded all expectations. It perfectly balances all of our clients' needs – aesthetic, technical and practical – and paves the way for the company's future aspirations.